The Van Houten History Tour
Take a fun, virtual tour with revered campus historian Peter S. Van Houten '56, M.A. '62, Ed.D. '73. Van Houten has developed an encyclopedic knowledge of memorable people, buildings, events, and traditions based on his 60-plus years on campus as a student and then as an administrator. Gain a special perspective and "meet" some important historical figures from Cal's fascinating past.
Speaker: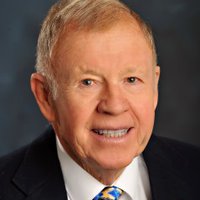 Peter S. Van Houten
Peter S. Van Houten '56, M.A. '62, Ed. D. '73 served under Arleigh Williams as associate dean of students, dean of orientation, and head of the pre-medical advising program. During his time at Cal, Van Houten lettered in volleyball and baseball, coached the junior varsity baseball team in 1957, and was active in the ASUC and honor societies. Since his retirement in 2000, Van Houten has done admissions outreach for Berkeley as a volunteer and shares Cal cheer on his costumed campus history tour.
READ MORE